Warwickshire County RDA News
Page Updated: Jul 19
'Team Stratford' you were awesome. Another amazing RDA National Championships! This is such a huge event with over 500 riders, who had all had to qualify to enter, so to have 6 riders from our Group competing kept us busy. Congratulations to all our riders and their teams of volunteers. A big hug to our ponies who behaved impeccably - well until they spotted real apples in the Countryside Challenge tree!
Isabella, became our first National Champion after winning her showjumping class on the Friday and continued to add to her rosettes by achieving 2nd in her Dressage class on Saturday with only 1/2 a mark between her and the winner. She also represented RDA West Mercia Region in the 50th Anniversary Parade flanked by Britt and Jill, after having given a dressage demonstration in front of HRH The Princess Royal. What an accolade! She then went on to enter the Showing class and Horse Care & Knowledge. A very busy young lady!
First-timers, Arthur, Leah and Kathryn loved taking part and rode well..., with Leah not wanting to leave for home. Arthur's smile was infectious as Diesel tried to eat the apple and Kathryn rode beautifully and should be so thrilled with being placed 2nd. Both Sophie and Lewis have both been before so knew the competition was going to be tough. Sophie went well on Diesel, who was enjoying his outing. The riders also entered the Best Turned out with Arthur coming 6th, helped by our grooms and some entered the Horse Care & Knowledge competition.
After waiting so patiently for the last class in the Countryside challenge, Lewis entered the arena concentrating really well and rode beautifully. His highlight was being presented his red 1st rosette. Our second National Champion! What stars Marco and he were! What a way to end the day!
All our riders received a commemorative RDA 50th rosette for taking part. Our Artists also had entries in the National Competition. Archie with his painted pony and a collage made by many of our riders and put together by Anna. They helped to make a lovely display although not placed.
A truly memorable day. Well done to all who took part and a big thank you to our coaches and volunteers behind the scenes who scrubbed, fed, and watered the ponies. We also would like to thank all the event volunteers who helped to create a happy and well organised Championships especially the many who were from our Group.
WARWICKSHIRE
FUN DAY 2019
Possibly one of the wettest days of the summer saw the Warwickshire Fun Day take place at Lowlands Equestrian Centre, National HQ of RDA, recently opened by HRH The Princess Royal.
The splendid facilities certainly came into their own and a group of hard working volunteers, led by Karen Arnold Warwickshire County Coach, in the pouring rain, moved the Countryside Challenge course into the newly refurbished indoor arena. The Countryside Challenge, judged by Hilary Richardson and Lynne Munro took place in the indoor school and the Horse Care & Knowledge, judging led by Jeannie Bird together with Chris Fletcher, Dawn McBride and Anne Thornhill took place on the steps of the tiered seating.
About 30 riders, mostly children, took part in both disciplines, the standard of riding and Horse Care & Knowledge was considered very good with special mention to coaches in HC&K where children showed extra enthusiasm. All riders were also then given the chance to ride 'Charley' the mechanical horse under the expert tuition of Ro Pudden FRDA. All enjoyed this opportunity which was a welcome break from the unceasing rain.

Rosie FD Warwickshire County Chairman thanked all concerned for their supreme effort in making what might have been a washout a hugely successful day.
The great British spirit shone through and after prize giving and a typically excellent Warwickshire picnic lunch there were many happy riders heading home.

Past Centre of England rider
Zen joined Centre of England Group, and remained with us riding every week for about three years.
He left when he went to senior school, and took up his preferred sport, and look what he has achieved, many congratulations to him. We are all so proud, and feel
his sporting career began with us on a pony.
Many of you will remember Zien Zhou who won a Worthies Award in 2017. Zien was award the Young Person's of the Year Award in memory of Milan Patel as we felt he was truly a worthy winner.
Zien has kindly sent us an update of how his paralympic racing is progressing and we thought we'd like to share this with you too:
'Racing wise, I am delighted to inform you that I have once again been selected to take part in the British athletics Paralympic development academy where I will receive training to perform better and advance in my athletics career. This is a very exciting time for me as I am looking forward to training with some of the fastest athletes in the UK who share my aims.

Physically, I feel that I am in the best shape I have been in and I have also been training with consistent results. Now we are in the winter training period where I will aim to get stronger, fitter and faster before the race season starts in April. This year should see better results for me as I don't have the distraction of external exams, so I should be able to dedicate more time on training. The coming season has many things for me to look forward to, including the London Mini Marathon.

This year will be my final year in this road race and I will aim to defend my Under 17 Boys title and aim to set a new course record. On the track, I will look to try and set new personal best times. I am always trying to work harder and aim higher to be the best I can.'
Physically, I feel that I am in the best shape I have been in and I have also been training with consistent results. Now we are in the winter training period where I will aim to get stronger, fitter and faster before the race season starts in April. This year should see better results for me as I don't have the distraction of external exams, so I should be able to dedicate more time on training. The coming season has many things for me to look forward to, including the London Mini Marathon.
This year will be my final year in this road race and I will aim to defend my Under 17 Boys title and aim to set a new course record. On the track, I will look to try and set new personal best times. I am always trying to work harder and aim higher to be the best I can.'
The Stratford upon Avon Riding for the Disabled group is delighted that Her Royal Highness The Princess Royal joined them to celebrate its 50th Anniversary.
As part of the visit some of its riders gave two short demonstrations watched by guests made up of its Founder, Mrs Beryl Sainsbury, The Assistant Lord Lieutenant , Mr Michael Fetherton-Dilke, The Chairman of Warwick District Council Councillor Stephen Cross and Councillor Mrs Christine Cross, some of its financial sponsors, past volunteers, suppliers, riders family and friends.
The riders were delighted to be presented commemorative rosettes by Her Royal Highness and there were smiles all round.
The Princess Royal was also invited to officially open a new classroom which has very recently been installed to provide facilities for its riders to gather for stable management classes, pre-lesson exercise and a warm waiting area.
The afternoon was concluded by HRH presenting a variety of awards. Long service awards were given to its ponies, Marco and Keira. The Silver Jubilee award for 25 years service to volunteer Mrs Beryl Tomlinson and for 30 years service to volunteer Sally Johnson.
RDA Over and Above awards were presented to Mrs Jill Nelhams, Mrs Karen Arnold and Miss Jasmine Wyatt for their outstanding contribution to RDA.
The final presentation was for a new award donated by its founder, The Beryl Sainsbury Special Achievement award. This was given to Mr Max Stainton, who commenced riding with the Stratford RDA group at the age of 5 and this year became the first man with cerebral palsy to ride to Base Camp Everest on horseback, raising over £60k for RDA UK.
Donna Jenkins, Group Organiser of Stratford RDA said, "It was an honour to welcome HRH The Princess Royal to our 50 year anniversary celebration. Many people have helped the Group with its continued success. We owe a huge debt of thanks to all who have volunteered their time and provided generous financial support to help keep our riders provided with the fun and therapy that they all enjoy."
Hartpury 2018

Congratulations to Fleur O'Donohue from Lowlands who won the Grade 5 Show Jumping.
Once again the well-oiled machine that is Team Stratford swung into action, as three dazzling ponies arrived at Hartpury on Friday evening to be met by our hard-working volunteers, who were assisting with running the event, as well as looking after our ponies.

It was already warming up early on Saturday morning, as Pat & I took the opportunity to familiarise Kiera & Alfie with the surroundings.

Jules was first to compete on Kiera, performing a good round in the countryside challenge, scoring particularly well on the gate. It was lovely to see Jules so relaxed & comfortable riding Kiera, & despite a lapse in concentration at the apple trees, they achieved 4th place in their class. A brilliant start to the day.
Next was Sophie & Alfie, also in the countryside challenge. Their relaxed, fluent, accurate round gained high marks and very positive comments from the judges to gain 6th place. Well done Puffin getting top marks for your leading technique!
Sasha guided Alfie round the CC course, to produce an accurate, active performance, showing good control & scoring top marks for the trot. They gained a well deserved 3rd place with over 90%. Great result.

Lewis was unphased by a last minute change of pony & was very at home on Kiera. He produced a beautiful round, scoring a 86% to come 2nd in his VI class. A brilliant performance against stiff opposition.
A real achievement for our Group, to have all our countryside challenge riders in the ribbons.
First-timer Charlotte took it all in her stride & was full of confidence riding Kiera in the dressage arena. They performed a lovely, obedient test, scoring 60% , just 9 points behind the winner. A huge achievement for her first time at national level. Since qualifying Charlotte has worked hard to improve accuracy, use of the arena & spatial awareness, this was reflected in positive comments on her dressage sheet. Well done Charlotte.
Our independent rider. Isabella and her pony, Cookie, had a busy weekend. On Friday evening they were 2nd in the level 2 showjumping, and 5th in the showing class, to qualify for the SEIB showing finals in September. On Saturday they gained 1st in the Grade 4 dressage class & also won best turnout, with a massive 87%. A very successful weekend for them both…. not forgetting groom Brit!
Several of our riders also proved their knowledge of horse care. Sasha and Sophie achieving distinctions in the quiz & Isabella scoring a creditable 75% in the advanced section.
.

My thanks to Pat, Puffin & Verena for ensuring the day ran smoothly, with ponies in the right place at the right time. Also for helping to find my misplaced phone & avert a minor panic! There was some interesting "costume changes" throughout the day, as those of us accompanying riders shared a jacket & shirt to ensure we matched our riders smart outfits!
The ponies were a credit to the Group. They were beautifully presented and scored well in the best turnout. With Sasha & Alfie looking particularly smart to gain 6th place. A huge well done to everyone who grooms, washes, cleans tack and looks after the ponies throughout the year.

Once again, as one of the smaller RDA groups, I'm really proud of the performance of all our riders and ponies at national level, particularly in such warm conditions. Most importantly everyone had an enjoyable, positive experience, reflected in comments from judges such as "happy partnership" & "great team".
These accolades are entirely due to the skill, commitment & support of everyone involved with our Group, in whatever capacity. It wouldn't happen without you - thank you
Toni Gasside receiving the Warwickshire Award for outstanding dedications to RDA in Warwickshire 2018.
Karen Arnold the County Coach
and Dawn Mc Bride, West Mercia Participants Representative
spent an enjoyable afternoon with Spinney group yesterday, at their new home. Dawn's comment " is absolutely fabulous. Indoor arena, stable and ponies are all immaculate. They are a lucky group to have found such a lovely new home. A very friendly bunch too."
Toni was taken by surprise when Karen presented her with the trophy. Toni saved the Group from closure when there venue closed suddenly earlier in the year. With true RDA spirit Toni worked quietly
behind the scenes,
sourced a new venue,
organised the training and all extra paperwork involved with moving to a new home so the Children could continue riding with out a long break.
"Very many congratulations to Stratford upon Avon RDA rider Sophie Evans-Lee, who, in front of her proud Dad Gareth and Grandmother Gill, was awarded the
Stratford upon Avon Junior Para Sports award 2018
for her achievements in horse riding at the presentation dinner held on 19th January.
Sophie commenced riding with our Group in September 2016 and soon came to love the experience. Last year she competed at the West Mercia Regional Qualifiers and rode so well she was presented with the Rosemary Stretch Memorial award for the highest scoring Warwickshire rider in the Countryside Challenge class and the award for the highest score of the day. She went on to compete for the first time at the RDA National Championships where she came 5th in her class. An amazing achievement and great recognition for the team who have helped to nurture her interest in riding.
What an end of the year for Sophie!
Sophie Evans-Lee from Stratford upon Avon RDA group found out today, 19th December, that she has been shortlisted for not one, but TWO Stratford awards!!!! Firstly, she has been shortlisted for the Junior Para Sports Person award as part of the Stratford on Avon District Sports Awards. The winner will be announced at an event on Friday 19th January. Secondly, she has been shortlisted for the Pride of Stratford award for Young Achievers with the winner being announced on 9th February. Both awards are in partnership with Touch FM radio following her nominations that listed her achievements with horseriding.
Then at the last riding session for the year, at the very end, in the dark, she was presented her RDA Proficiency Grade 2 Riding and Grade 2 Horse Care & Knowledge certificate and badge. Congratulations Sophie for demonstrating excellent riding skills and showing your knowledge of the tack and parts of your horse. What a day, what an achievement and what a journey you have had since you commenced riding with us back in September 2016. We will be routing for you next year!"
Warwickshire County Training
14 November 2017
Using practical demonstration and open discussion, Lynne Munro, our Regional Physiotherapist, explained different methods of mounting and dismounting, considerations when selecting a pony and how the way a pony goes affects the rider's experience.
Lots of useful information for the 25 coaches, volunteers and trustees who attended to take back to their Groups.
Huge thank you to Lynne for an interesting and informative presentation and to everyone who attended and made the evening a success. Thank you also to Lowlands, for use of the facilities and the very patient Maisie.

Special mention to Liz, whose delicious selection of home-made cakes kept us going throughout the evening!
Karen Arnold

Warwickshire County Coach
WARWICKSHIRE
News Update Sept 2017
THE BIG RIDE COMES HOME
What a beautiful Day! The sun shone on us as we witnessed Sam Orde and a huge group of RDA families and friends, old and new, trot up around Lowlands Farm. Lowlands is soon to become the RDA National Training Centre and Sam has ridden hundreds of miles around all 18 regions covering 20 venues accompanied by countless riders, walkers and carriages in her special effort to raise funds for the project. Sam's drive, leadership and commitment to the project have been exemplary so it was fitting that she finished the challenge in Warwickshire.
The day began at the home of Pat Sansome one of the founder members of Centre Of England Group, "way back then to give a chance to some youngsters with a challenge". Pat had mustered many of the original team to watch Sam and 15 riders, mainly former or founder volunteers, ride around the family farm. Later Sam took her splendid grey....... loaned for the day and 4 Lowlands and 3 Stratford upon Avon riders for a tour of RDA UK's Lowlands estate before returning to the indoor school to join 6 Fen End children on their weekly ride.
It was great to see Karen Arnold, Donna Jenkins and fellow volunteers of the Stratford Upon Avon Group in fine form. They do nothing but smile, ooze personality and bring joy to their riders. What a great show they put on. And not to be outdone the Fen End Group matched them with a highly polished display using their tried and trusted horses and ponies resident at Lowlands. Oh and it was smashing to see the Centre of England Team too (yummy cakes thanks,) another of Lowlands' based groups who turn out week in week out to improve lives of some 8 riders.
Of special note was seeing the delight of Ro Pudden, the heart beat behind Lowlands, who sat astride the tractor harrowing the school. It was a marvellous sight watching Ro smiling as she ensured that Lowlands showed off perhaps for the last time in its current guise. " ........and onwards to 2019" she commented in quiet discussion and reflection on what she hopes will be a fine legacy to the many volunteers and riders that have enjoyed their RDA experience under her care and guidance.
Ed Bracher CEO RDA UK gave a short speech to the dozens of visitors for the day. How fitting that the back drop was a normal Tuesday morning session going on in the indoor school. VIPs and guests viewed at first hand just what we provide; a professionally delivered progressive riding session with riders and volunteers giving of their best. Everyone received well earned praise, thanks and rosettes from the Lord Lieutenant and the High Sheriff. Yes, a grand finale to a wonderful effort by Sam and her team. Well done from West Mercia Region Sam, and a thank you to Rosie FD, Warwickshire Chairman of all the behind scenes organisation.
Arden RDA
Blessed with a warm sunny day a visit to Arden RDA near Atherstone was a true joy. It is a peripatetic Group, providing sessions at two locations (Ashby Parva and Hartshill) and transporting horses and ponies from their home near Lutterworth. It is a committed group with a highly motivated team of volunteers catering for about forty riders a week in lessons on Wednesdays, Saturdays and Sundays. The aim is to make all sessions an enjoyable and positive experience for everyone.
I talked to Anna Smart the Group's enthusiastic Chairman who has a degree in Equine Science:

"The Group started just over five years ago and has gone from strength to strength. We have supportive hosts at Ashby Parva who allow us to use their privately owned manège where the team provides sessions for small classes of children from Castle Wood School, Coventry. That is the Wednesday team and on Saturdays we cater for individual youngsters there. On Sundays we are fortunate to be able to ride at the RfY livery yard in Hartshill, near Nuneaton. That does mean that Elizabeth Hill, our Senior Instructor, must transport four horses even further than she does on Wednesdays and Saturdays.

"We have about twenty volunteers in all (though obviously we cannot call on them all at once!) whose ages range from 14 to, well, somewhat older than that! I enjoy being Chairman," says Anna, "because although my experience with horses prompted me to volunteer initially, I now feel I can help give direction and shape what we do. We want to improve and grow. Today we welcome Karen Arnold, a County Coach, who is here to conduct a Training Advisor's assessment and give us guidance. It's also good to welcome you, Anona, on your first visit to our Group."

Whilst we were on our visit, I watched around a dozen riders being put through their paces, all clearly enjoying the friendly-natured horses and the keen encouragement given by the coach and leaders. And I was thrilled to see a three-year old being shown the basics of pony care. "Catch them when they are young" sprang to mind.

I thoroughly enjoyed our day amongst a truly welcoming group of enthusiasts. Talking to a very proud mum, Kellie Joyce, as we watched daughter Erin, riding D'Arcy, urge him into a working canter, I learned how Arden RDA has given Erin lots to be proud of and grateful for. "Erin has a bone condition which really hampers her ability to grip with her hands, her core strength and hip cage is also weakened by it. But riding with RDA on a regular basis over the last year has been a real boost to her and to us all. We are truly pleased with her progress as riding is both therapeutic and provides her with comradeship and team skills. She has recently started volunteering too, so we are really proud of her.." And the last comment came from a beaming Grandma Theresa who "feels at home amongst the Arden group".
I also managed to meet the Group's host in Hartshill, Tess Hunt who owns the Riding for Years Centre. "We love seeing the Arden team here; they bring so much fun and activity. You are watching my brother Tom on Austin going through their paces. He has his own horse, Chianti, but Tom loves his lessons with the Group when he gets the chance to ride different horses. It helps him to focus and he feels totally included, coping brilliantly with the challenge of Down's and a hearing loss. He always at home on horseback and the team has helped him gain confidence and improve his riding."

I am always moved by the hard work and dedication of fellow volunteers when I witness success and get positive feedback. Keep doing what you do well Arden RDA!
August 2017
And ongoing in Warwickshire it is all change at Lowlands Farm the future home of the National Training Centre and the National Office team. It was a pleasure to listen to Ed Bracher set out the plans and the vision for how Lowlands is to develop in the coming months. Ed's "tour de force" showed the drive, commitment and dedication to excellence that is behind the Project. Clearly no stone had been left and no blade of grass uncut in the planning submission. Well done to Ed and the team for achieving great success, onwards to the development.
And in support of the Centre the County team has sprung into action to lay the Plan for Sam Orde's final Big Ride with Lowlands as the goal and the prize. Rosie Fetherston-Dilke the coordinator has galvanised the local groups and the Region has encouraged every group to use their sessions in the lead up week to promote the Big Ride. A chat here and a phone call there will go a long way to raising the profile throughout the Region, who knows what curiosity this might evoke? Good luck to Sam and her intrepid band.
"Riders from Stratford upon Avon RDA group had a ball at the Championships

Once again the well-oiled machine that is Team Stratford swung into action. Three dazzling ponies arrived at Hartpury on Friday evening to be met by our hard-working volunteers, who were assisting with running the event as well as looking after our ponies. On Saturday Jules was first to go. Kiera was on a mission – I could hardly keep up! I was really impressed that, despite the unsettling start, Jules remained positive & focused on the rest of the course. This was reflected in the good marks she received for her riding from both the judges. Well done Jules.

First-timer Sophie took it all in her stride. Once again Kiera was keen to get on and Sophie rode with tact and focus, to come 5th. It was also Alfie's first time at the Championships and Sasha guided him round the course, to produce an excellent round and be placed 4th. A real achievement for our Group, to have two riders in the top five in the country for the Independent Countryside Challenge class.

Then it was the turn of Marco and debutante Lewis. They produced a beautiful round, scoring a massive 90.75% to come 3rd in their class. A brilliant performance against very stiff opposition.

Isabella and her pony, Cookie, had a busy weekend. On Friday evening they competed in the new showing class. On Saturday Cookie coped well with his first time at the countryside challenge. He was more at home in the Dressage arena to win third place. They also were second overall in the Best Turnout.A good day all round.

At the prize giving our winners were really excited to receive their rosettes from Paralympian Ricky Balshaw. Several of our riders also proved their knowledge of horse care. Sasha and Isabella achieving distinctions in the quiz – Isabella scored an amazing 99% !

All our ponies were beautifully presented and scored more than 80% in the best turnout – A huge well done to everyone who grooms, washes, cleans tack and look after the ponies throughout the year. As one of the smaller RDA groups, I'm really proud of the performance of all our riders and ponies at National level. This is entirely due to the skill, dedication & support of everyone involved with our Group, in whatever capacity. It wouldn't happen without you – thank you Karen – Group Coach"

Visit there website for photo's www.rda-stratford.org.uk
SAUSAGES, SANDWICHES, SMILES and SANTA AT THE STRATFORD UPON AVON GROUP
Over 100 members and friends of the Stratford Upon Avon Group gathered in their local community centre to celebrate success and to say a HUGE THANK YOU to their many sponsors, helpers and colleagues. Over a beautifully prepared and lovingly served buffet DONNA JENKINS the Group Chairman, conducted a brilliantly delivered and very cheerful awards ceremony. On hand to present the trophies, rosettes and prizes was Ed Bracher the Chef Executive of RDA. Ed, who knows the Group well as RDA NO team spend time there as volunteers side-walking. How apt that he was able to see riders and volunteers being recognised for their achievements.
It was a special event also for BERYL SAINSBURY at 95 years young she was delighted to see the Group she started 48 or so years ago is still striving. "Oh I started up Stratford many years ago as I was a Physiotherapist working there. My consultant Mr Gallagher simply said, "I think this idea of using a horse for therapy is a really good one, you are going to start a Group". "Am I?!" I exclaimed, "but I just had to get on with it". Well as the Group approaches 50 years old, I am thrilled that we have helped so many to gain self confidence, to improve their health and to enjoy the fun of riding."
Also on hand with beaming smiles was RITA KIMBERGER, Zone Chair of the Lions Club of Banbury clutching and very pleased to hand over a giant cheque for £600 raised following a Fun Ride in the summer. Alison and Sonia two friends of the group from the Warwickshire Ladies Keep Fit presented a cheque for £300 raised by their lady participants, "because they simply love to support what the Group does for so many folk to get and keep fit on horse - back".
Karen Arnold, the Group Coach, was masterful in getting the award recipients to say a little of what they had achieved and huge applause rang out at the mention of riders who now achieve a canter stride with their various ponies. Star of the show, who could not be there as he was tucked up in his box, was BADGER the most popular horse in the Group. BADGER was a gift some 4 years ago from Tom and Liz HALES who "simply love the Group and what it delivers for our community". Tom and Liz presented their new award for the highest achiever at Countryside Challenge to Jo PRATT recognising the special achievement in the National Championships in July.
Recognising the hard work, dedication and commitment of the volunteer was a special feature of the ceremony. Awards were presented to around 10 volunteers some of whom have gained YELA Bronze and Silver certificates, others the Over and Above award and a special mention was given to HAZEL WEST whose dedication and commitment was recognised by the RDA Silver Jubilee Award for 25 years service to RDA. "Without people like you whose enthusiasm is infectious we could not do what we do. This year we have provided a new record of 1010 rides a massive achievement," added Donna, again drowned out by a crescendo of applause and calls of delight. Father Christmas then was called and welcomed with his sack of presents for the riders. What a great afternoon amongst a band of vibrant, enthusiastic and committed fellows who very proudly call themselves "TEAM STRATFORD", and what a great Team they are! A full list of the Awards is available on the website via the link (www.rda-stratford.org.uk)
"Chernobyl's Children enjoy a lovely morning with the
Stratford upon Avon RDA Group"
The Group welcomed back the Chernobyl's Children charity on Thursday 11th August for a third year. 12 teenagers aged between 13 and 15, all having problems from various cancers due to the nuclear fallout 30 years ago, arrived around 10 with their own doctor and translators where our ponies and team of volunteers were ready to take them riding around the fields. It was such a pleasure to offer them the experience of riding which most of them had never had the opportunity to do before, as well as grooming, tacking up and leading the ponies. They were also given horse shoes to decorate to take home as a momento which they did very well and enjoyed. They are staying near Solihull whilst undergoing optical, dental and medical check-ups. As well as health checks the charity organises various fun activities such as biking, horseriding, arts & crafts and picnics and buying them clothes. We look forward to welcoming them back in 2017."
July 2016
HRH THE PRINCESS ROYAL VISIT TO LOWLANDS FARM
13TH JULY 2016
We were lucky to have a sunny morning at Lowlands Farm after such adverse weather, for the scheduled visit of HRH The Princess Royal, President of RDA. The preparation had been exhaustive, Lowlands was brushed and spruced, ponies were shining bright with manes plaited and tack gleaming – an immense amount of work for Charlotte Williams and her team. The riders looked immaculate and volunteers from all groups attending were in their coloured RDA shirts.

The excitement was intense as HRH landed in a helicopter, whilst the ponies were safely sheltered in the indoor school. HRH proceeded swiftly to be greeted by the Lord Lieutenant, other local dignitaries and the Chairman of RDA, Mrs Sam Orde, CE RDA Ed Bracher, Regional Chairman Celia Baker, RDA co Chairman Warwickshire Anne Thornhill, and Lowlands Farm RDA Group Chairman Ro Pudden. Ro Pudden then accompanied HRH to the outdoor school where she met RDA co Chairman Warwickshire Rosie Fetherston-Dilke and Sue Robbins, group Instructor Centre of England.
She watched the two riders from each of three groups, Centre of England, Fen End and Lapworth demonstrating a countryside challenge routine. HRH was introduced to the participating riders and volunteers, chatting to them and presenting them with a rosette. Ro Pudden then presented HRH to Lowlands riders, who also received a rosette.
HRH then proceeded to 'Charley's house' – the home of the mechanical horse. This was demonstrated by Karen Arnold County Instructor RDA and rider Daniel Mortimer-Timms. This apparatus is a wonderful addition to Lowlands and a fantastic learning aid for disabled and abled bodied riders alike. Charley has been named after Julie Dargie's late daughter with all funds raised by local donation. Julie gave a brave talk to tell us the story of Charley and we are all thrilled that her name will live on in such a purposeful way.
HRH proceeded to the indoor arena, first to watch a demonstration musical ride by two Lowlands Farm riders, Zia Clayton and Dawn McBride. This was most amusing and everyone had a smile on their face. HRH then presented long service awards to RDA volunteers and ponies, and two President's Awards, to Mrs Hilary Richardson and Mrs Dawn Whitmore-Kirby. It was a pleasure to everyone that she spent so much time talking to each recipient. HRH talked to the assembled supporters, donors, friends and volunteers and proceeded to cut a commemorative cake. After a few words of thanks from Ro Pudden the royal visit was concluded. How lucky we all were to receive HRH The Princess Royal to Lowlands, such a dedicated President of our charity. All who attended then had a cool drink and the cake disappeared in very short order – just like the helicopter over the tree tops.
RFD
28 July 2016
WARWICKSHIRE FUNDAY 2016
Once again the Warwickshire RDA held its Fun Day at Lowlands Farm by kind permission of Ro Pudden. Five groups from the county were represented and thankfully the day was dry following days of rain and storms. As always Ro and her team provided a great venue and thanks must go to Charlotte Williams the head girl at Lowlands for turning out all the ponies looking incredibly well and clean.
All the riders took part in the handy pony classes judged by our Regional Chairman Celia Baker and Chris Fletcher. The standard was very high for all classes and there were plenty of prizes given out later. There was horse care and knowledge classes for everyone, these were judged by Anne Thornhill our co county Chairman and Jeannie Bird, helped by Dawn McBride from Lowlands. Again the standard was high. Whilst waiting for their turn to do the stable management the children were able to take part in 'unmounted' games organised by Spinney group. Everyone was suitably tired and ready for their picnic lunch. A special mention must be given to the co-ordinator, Isobel Ollis, and the scorers Alan Richardson and Geoff Heath.
Prize giving commenced with the arts and crafts classes, always keenly contested by the children. There were some terrific decorated hats and a highly original joint artwork winner by the Centre of England group.
The new Rosemary Stretch Memorial Cup for senior handy pony was presented by the three Stretch brothers, Rosemary's sons, to Jo Pratt from Stratford Group. It was so good to see the three brothers coming to support RDA Warwickshire as their mother had done for so many years.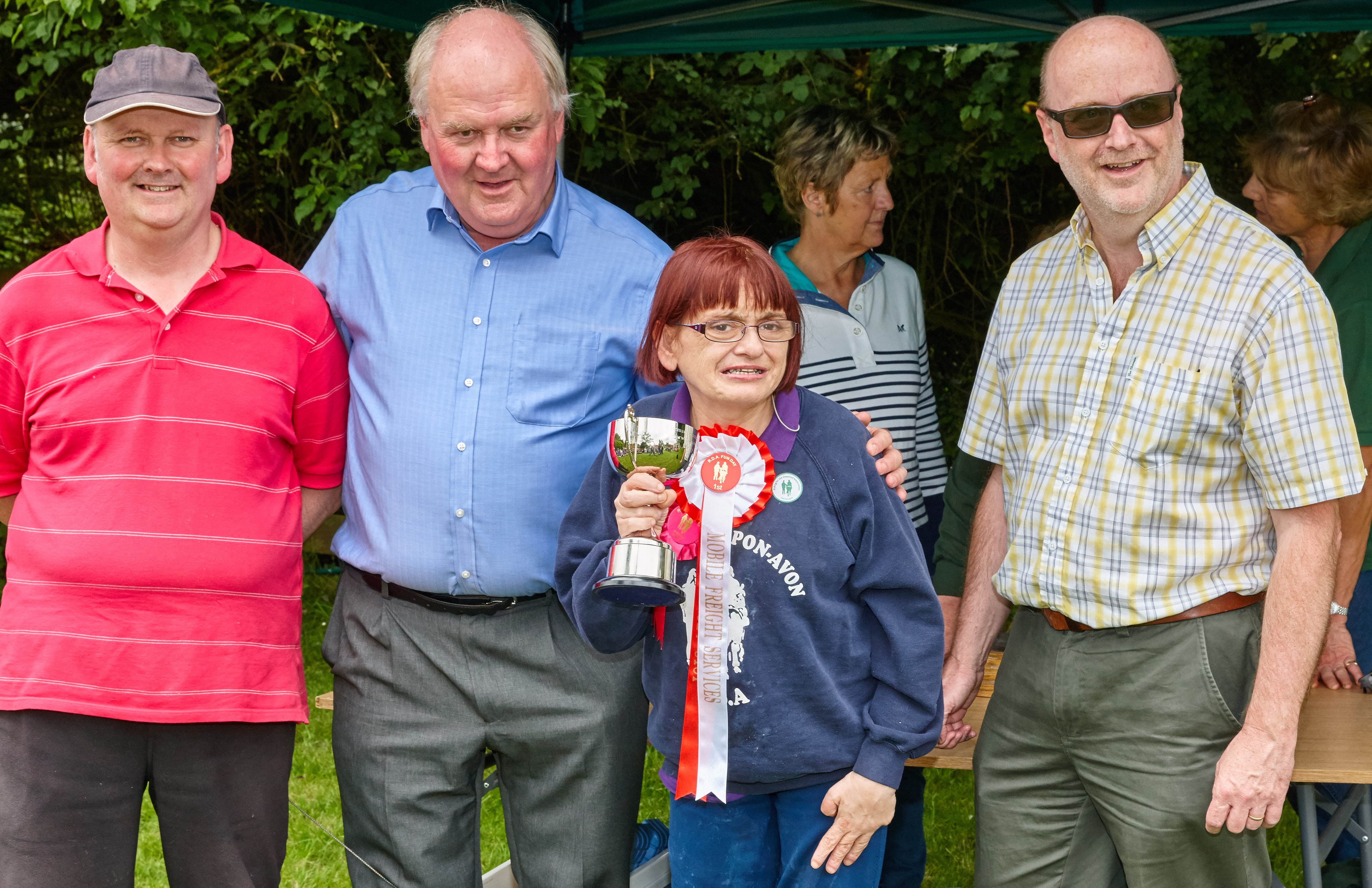 Isabella Benfield also from Stratford Group won the junior Handy Pony. She had already qualified to go to the Nationals, so very good luck to her.
Ro Pudden was presented with the Rachel Goldsmith Memorial challenge trophy for services to RDA. Ro has given so much time over the years to support and encourage riding and it is well deserved. From all aspects of RDA at Lowlands, culminating in the purchasing of Charlie, the mechanical horse with funds raised from numerous sources, Ro always has time to help everyone, riders, volunteers, instructors and parents. We, the Warwickshire groups, particularly those who ride at Lowlands, are so grateful to her for all she does. Thank you Ro.
The Fun day really was a great day, there was confident riding, much clapping and cheering for all concerned at prize giving, and a big thank you for all those who helped to make the day such a success.
RFD 23 June 2016
Another Successful Regional Qualifiers 2016 for 'Team Stratford'
Having been washed and coiffed the day before, it was an early start for Marco, Kiera and Badger, who were in for a busy day at the new venue Stourport Riding Centre. Our new boy, Alfie, also joined the gang on the lorry, for his first RDA outing. Pat resembled the Pied Piper, as she showed our riders round the Countryside Challenge, familiarising them with the course in an attempt to calm nerves, especially for our first-timers Sasha & Ellis. These classes are popular and very competitive. However, our weeks of practising paid off. Our riders produced good performances, despite our ponies' lapses in behaviour – trying to eat the hay bale and fidgeting when they should be standing still!! Well done Ellis, who was really focussed and remembered the whole course unprompted. Also, full marks to Matthew, who rode an occasionally un-cooperative Badger with determination and focus to come 4th. Many congratulations to Sasha, who won with an excellent round, scoring 79.5% and qualified for the RDA National Championships in Hartpury, along with our independent rider, Isabella who came 2nd. Jack, on Marco, just missed out on the rosettes, coming 5th with a very creditable 72.75%. Next up was Badger and Jo competing in her dressage class in the smart indoor arena. Badger was rather distracted & kept calling to his girlfriend, Kiera. However, Jo managed to keep him focussed and completed an accurate test, coming 2nd and also qualifying for Hartpury. Isabella, riding Henry won her dressage class and qualified for this as well! Once again Stratford was well represented in the showjumping arena. In the junior led class, Charlotte and Kiera scored an excellent 86% to win - "well ridden" commented the judge. Jack was a very close second; Sasha was 3rd. and Ellis 4th, with everyone scoring over 73%. Great results, especially for those competing for the first time. Well done Jules and Kiera, who were convincing winners of the senior led class, showing "straight approaches & good light seat" to score 75%. Badger redeemed himself and Matthew showed "great control and good light seat" to come 1st= in the unled class with an amazing 88%. Isabella and Henry came a creditable 3rd in the Level 2 jumping, just missing out on qualifying. Once again our ponies were a credit to the Group – with the exception of Marco - I have the scars to prove it!! It's a big ask, taking them to new venues, but they quickly settled and got on with their job. We had success in the Arts & Crafts section; Henry's wonderful horse-shaped collage was much admired and won a 4th rosette. Isabella proved her knowledge of grooming and looking after ponies, coming 2nd in the Horse Care & Knowledge with 98% and to top it all Sasha was awarded the "Rosemary Stretch Memorial Shield" for the Warwickshire rider with the best Countryside Challenge score presented by Rosemary's son, Gordon. As many of you will recall, Rosemary was our County Chairman for many years and the Countryside Challenge was her passion. A great day for everyone involved with the Group. A huge thank you to all our helpers for your time, effort and dedication. Whether its accompanying our riders on the day, practising beforehand, tack cleaning, preparing ponies, bringing chocolate flapjack, baby-sitting Alfie, helping at the event or clearing up afterwards…YOU ARE AMAZING AND IT WOULDN'T HAPPEN WITHOUT YOU!
ka May 2016
Warwickshire RDA
Eliza' Mum has written what RDA means to her Daughter
Eliza has been riding with Centre of England RDA for almost 3 years and she absolutely loves it! She has made enormous progress since she started and she looks forward to her Thursday sessions; greeting me when I collect her from school, and then all the helpers at Lowlands Farm with huge smiles when she sees them. Eliza can now sit up straight on her horse "Faith" and she holds the reins (most of the time!). She kicks when told to indicate she wants to walk on and she is learning to pull the reins to stop. She is beginning to learn a rising trot. These may seem like very small achievements to accomplished riders but for Eliza they are enormous and they have taken an incredible commitment from the volunteers who work with her.
Eliza's first riding lesson did not start well. She lay on the floor and refused to look at anyone. She didn't want to wear a hat or try on shoes. She refused to stand on the block and literally tore her hair out. She resembled a monster from the black lagoon by the end of her performance!
Warwickshire Groups Information
01675 467676
Arden RDA Group

Phone Number: 01827 707452

Postcode: CV10 0TE

Email: ride@ardenrda.org.uk

Website: www.ardenrda.org.uk
Centre Of England Group

Phone Number: 07493 005206
Postcode: CV35 7AY
Email: rhetthume@gmail.com
Lapworth Group

Phone Number: 07519 155600
Postcode: CV35 7AX
Email: gawertheim@gmail.com

Lowlands Farm Group
Phone Number:

07908 793378
Email: lowlandsfarmrda@gmail.com


Stratford Upon Avon Group

Phone Number: 07470 458674
Postcode: CV35 9HJ
Email: enquiries@rda-stratford.org.uk
Website:
www.rda-stratford.org.uk
Phone Number: 07967 164126
Email: lynn.soudan@btinternet.com
Welcombe Hills School Group
Phone Number: 01789 266845


Email: morle.n@welearn365.com

Photos from Arden RDA Group